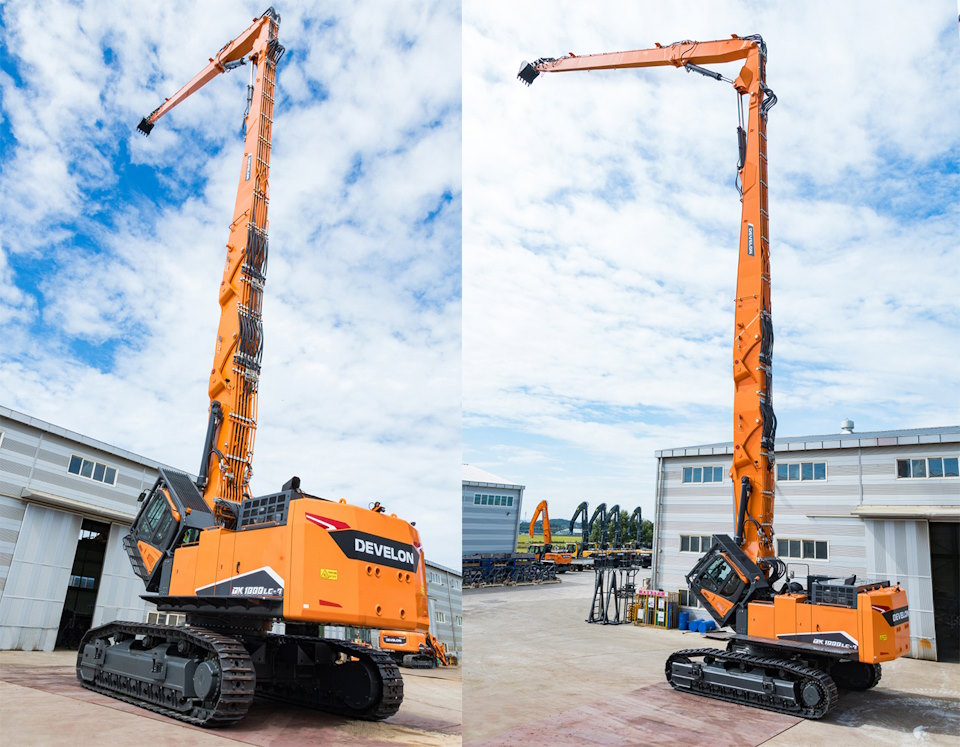 HD Hyundai Infra Core announced on the 8th (Wed) that it has launched Korea's first 130-ton demolition excavator (model name: DX1000LC-7 Demolition) and recently delivered the first unit to an apartment demolition site.
The 130-ton demolition excavator has increased its work range by 10 meters compared to existing equipment, and can work up to 46 meters and 5 floors high above the ground. In particular, it is equipped with five front options, including a boom and arm that serve as the arms of the excavator, and they can be quickly and conveniently attached and detached depending on the height and purpose of the workspace.
This equipment can tilt the driver's seat back up to 40 degrees when demolishing a high-rise building, ensuring safe visibility, and work stability has been increased by adding heavy weights (counterweights). In addition, convenience features have been improved by applying a monitor camera, safety alarm device, water spray for dust reduction, and automatic expansion function for crawler (belt-type wheels) width.
HD Hyundai Infra Core entered the special demolition equipment market by launching its 64-ton demolition excavator in Korea in 2019. As the importance of safety at construction sites has increased, the company has released 46-ton and 120-ton equipment, and with the recent introduction of 130-ton equipment, it is diversifying its product line and expanding demand for special equipment with high added value.
Before the launch of excavators for high-rise demolition, small and medium-sized excavators were placed on the roof of a building and demolished from above. As excavators using a long boom and arm for demolition have appeared in Korea, it has become possible to apply safe demolition techniques to high-rise demolition sites, and equipment is becoming increasingly larger. <The End>