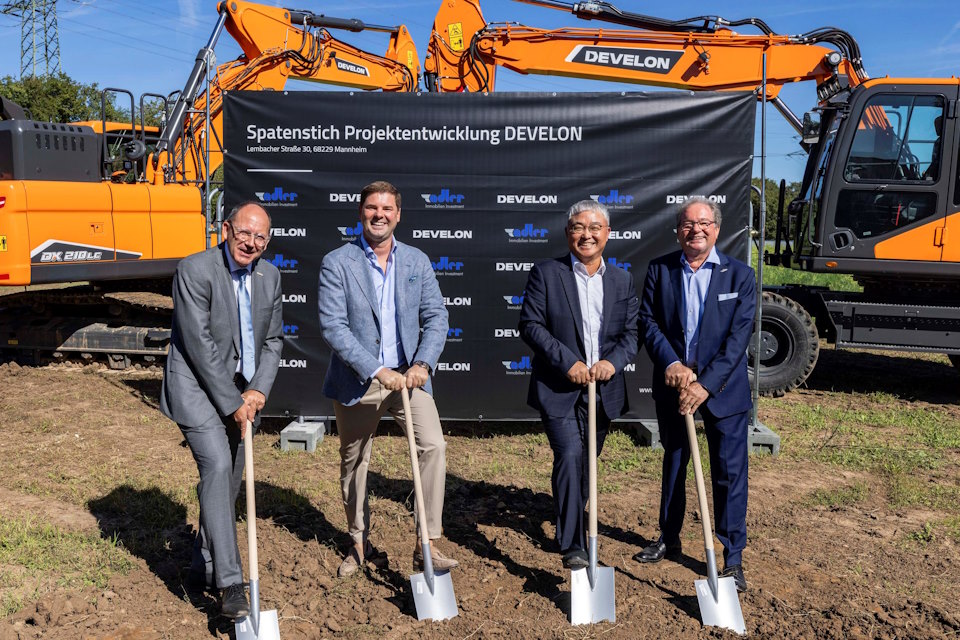 South Korea, September 6, 2023 – HD Hyundai Infracore (CEO: Young-cheul Cho, Seung-hyun Oh) will be drawing more attention on the largest European construction equipment markets, Germany and the UK.
HD Hyundai Infracore had a ground-breaking ceremony for HD Hyundai Infracore Deutschland in Mannheim, Germany on Sep. 5. HD Hyundai Infracore CEO Seung-hyun Oh, First Deputy Mayor of Mannheim Christian Specht, ADLER Real Estate CEO Alexandar Adler and other stakeholders attended the event.
A three floor office is planned on a 10,650m2 site for HD Hyundai Infracore Deutschland. It will consist of a new office space, training center, service center, and a parts center which will be completed by the second half of 2024. The German subsidiary will be the first in Europe to be directly managed, making it special as the construction equipment industry normally sells products to customers through their dealer network in each country.
The annual European market volume for excavators and wheel loaders are around 150,000 units, while Germany and the UK take up 45% of the entire share. Germany takes up the largest portion of 25%.
With the new German branch, HD Hyundai Infracore will be targeting not only Germany but also Austria (DACH), Switzerland, and other German-speaking counties. The Mannheim office will also be directly selling equipment to customers in neighboring cities such as Frankfurt and Stuttgart where the country's construction equipment demand is concentrated. This will improve accessibility for German customers as well as providing high quality and convenient services.
HD Hyundai Infracore will also be sponsoring the Korea-Wales football friendly to be held at the Cardiff City Stadium on Sep. 7th. The goal is to strengthen brand presence in the UK through such sports marketing activities.
HD Hyundai Infracore will be featuring an LED advertisement inside the stadium for its new brand DEVELON, a two-week banner on the Football Association of Wales (FAW) website, and displaying a DEVELON excavator and wheel loader at the stadium entrance to draw attention from local football fans. It also plans to engage in various sales activities by inviting European dealers to watch the match.
UK is the market that generates the largest revenue in Europe for HD Hyundai Infracore, while having the second largest market volume of 20% for construction equipment after Germany. According to a report published by a construction equipment market forecasting and research institution, Off-Highway Research, HD Hyundai Infracore ranked third in 2022 for mid-to-large equipment share in the UK, showing strong brand presence.
Wales, where the football friendly will be held, is especially meaningful to the company as it was where HD Hyundai Infracore's R&D staff and local staff developed the early excavator and wheel loader models through technical collaboration. HD Hyundai Infracore has a stable business foundation with an overseas branch and parts distribution center located in the UK. Therefore, this sponsorship will hopefully contribute to spreading brand awareness even further in the region.
HD Hyundai Infracore CEO, Seung-hyun Oh mentioned, "Adding more focus on developed markets such as Europe and North America is a must to secure stable growth as there are high concerns towards the prolonging stagnant Chinese market" and added, "The market volume in Europe is expected to stay at around 150,000 units, making the establishment of HD Hyundai Infracore Deutschland even more important in expanding the market share within the region."