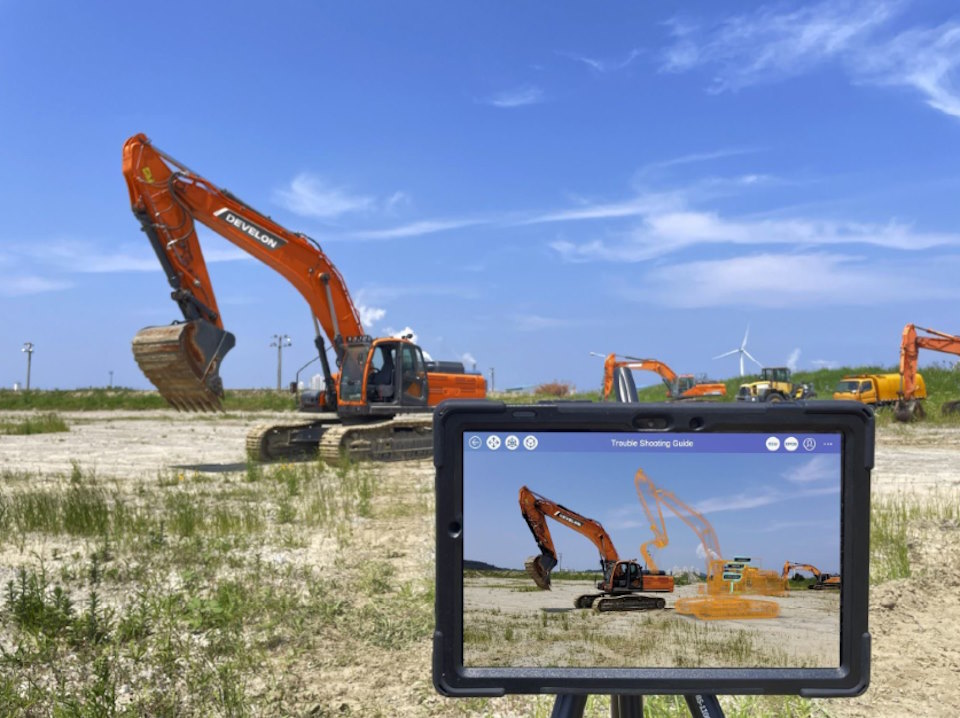 HD Hyundai Infracore (CEO: Young-cheul Cho, Seung-hyun Oh) will be applying augmented reality (AR) technology to diagnose and repair machine breakdown for the first time in the construction equipment industry.
HD Hyundai Infracore announced on Wed, July 12, that it created an application named 'AR Guidance' which helps diagnose and repair equipment failures by providing intuitive status visualization using AR technology.
AR refers to a computer graphic technology which enables the user to see an image created by overlapping reality with a virtual image. The AR Guidance app helps visualize equipment status by applying AR technology to 3D modelling data and data collected through parts sensors.
The AR Guidance app consists of two main features – Guidance, and Model Viewer. The Guidance feature helps users diagnose and repair breakdown more easily by providing diagnosis information based on the breakdown code while also providing a test-drive guide. The Model Viewer is a feature that shows the location and name of key equipment parts. This feature is useful in conducting remote diagnosis and keeping up with equipment maintenance as it can be used not only on site where the equipment is physically located, but also in remote areas.
HD Hyundai Infracore kicked off this project in 2019 and made developments to create a beta version in 2020. After going through demo tests in 2021, it went through completion stages by listening to VOCs. Since 2022, it focused on commercializing the program and officially launched the app worldwide this year.
The response from the company's dealer networks is quite positive. Jeff Horan, Service Manager in North America shared his thoughts regarding the app release and mentioned, "We are receiving great reviews from our dealers as the AR Guidance app helps diagnose and repair equipment failures more intuitively and precisely, reducing time and enhancing efficiency," and added, "We have high expectations that this app will contribute to customer satisfaction."
A representative of HD Hyundai Infracore shared that "HD Hyundai Infracore is the first in the industry to actually introduce AR technology to its service programs," and continued to say, "The app currently provides services for DEVELON machines in North America and Europe including the DD100 dozer, DX35Z-7 mini excavator, DX140W-7 wheel excavator, DL420-7 wheel loader, but will work on expanding applicable models and regions going forward." <EOD>